It was great to see young horticultural talent on display at this year's RHS Hampton Court Flower Show. Step forward Lee Burkhill (above), whose 'Fancy a brew? Take a Pew' design for BBC Radio Manchester was among the four winners in the BBC Local Radio Front Garden Design Competition and was turned into reality for the event. A survey by the RHS last year found that three times as many of our front gardens are now paved over compared with ten years ago, while five million have no plants growing in them at all – not even a lonely geranium in a pot. Yet plants and good design can have positive effects on people's health and happiness.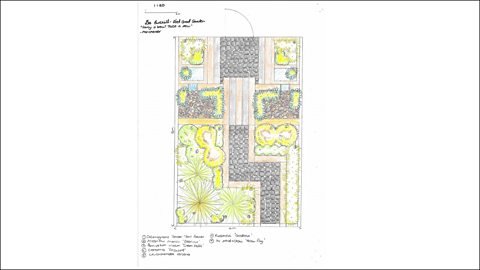 The challenge was to take a small 6m x 4m plot and show what could be achieved (above).
Lee's inspiration came from Manchester's industrial heritage and community spirit. With a cobbled garden path symbolic of the famous Coronation Street cobbles, reclaimed railway sleepers containing raised beds and water reflecting the city's canals, he included seating and a bench to encourage neighbours to stop and share a cuppa.
The planting list includes: Calamagrostis stricta 'Karl Foester', Nepeta govaniana, Aster radular 'August sky', Festuca amethystine, Anstrantia major 'Snow storm', Sangisorba tenuifolia, Pennisitum 'Orientale', Melica altissima alba, Deschampsia cespitosa 'Garnet Schist', Verbena bonariensis, Echinacea 'Hot Lava', Echinacea 'Big Kahuna', Hellenium flammendes, Echinacea 'Hot Summer', Hellenium moerheim 'Beauty', Sangisorba officinalis 'Tanna', Alchemilla mollis, Juncus effuses, chinacea 'Tikki Torch', Myrtus communis.
As well as running his own garden design business, Lee also has a blog which he uses to help and inspire garden newbies. I don't think this is the last we'll be hearing of him.